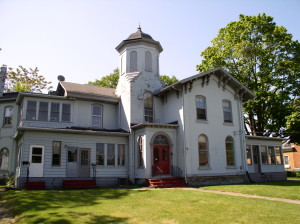 Preservation Erie, Erie City Council and the Erie County Historical Society believe that Erie's continued loss of historic properties adversely affect Erie's neighborhoods, and overall health of our community. Countless cities and municipalities across the country have integrated historic preservation principles into their economic development strategies with positive results. We have begun work on a joint strategy to further educate the community about the economic values of historic preservation, as well as further develop the necessary legal tools to turn dialogue into action.
Presently, Preservation Erie, Erie City Council and the Erie County Historical Society are jointly working on the following proposed ordinances.
Historic Overlay District Ordinance:

The purpose of the ordinance is to protect and preserve historical areas of the City of Erie and individual structures and sites within this area having historic, architectural or cultural significance. It is also intended to ensure that any new development or redevelopment of lots within the Historic Overlay District is compatible with the character of the District. (Download a FAQs sheet.)

Demolition Delay Ordinance:

A demolition delay ordinance is a tool that preservationists and municipalities can use to protect historical resources. Effective demolition delay ordinances clearly define what buildings are covered by the delay, do not postpone demolition indefinitely but establish a time frame in which an alternative to demolition can be identified, provide for strong penalties if the ordinance is violated, and identify an organization or individual in the community willing to work on finding viable alternatives to demolition. (The model demolition delay ordinance being considered for the City of Erie is from the Connecticut Trust for Historic Preservation, and may be downloaded here.