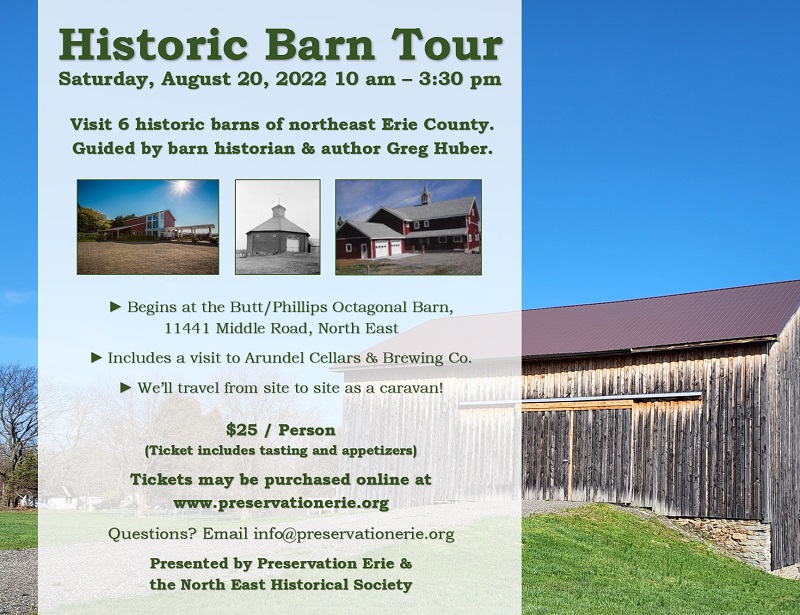 Preservation Erie is excited to host our first ever historic barn tour!
Guided by visiting barn historian and author of The Historic Barns of Southeast Pennsylvania – Architecture and Preservation 1750 to 1900 Greg Huber, the tour includes six historic barns of northeast Erie County. Several of the barns featured on the tour have been lovingly cared for and still function as barns, while others have been adaptively reused – one is a private residence and another serves as a winery!
The tour includes a visit to Arundel Cellars & Brewing Co., which is housed in the old Schultz Farm barn. Tickets include tasting fees and a light lunch. (Designated drivers will receive a small souvenir in lieu of tasting.)
Beginning at the Butt/Phillips octagonal barn at 11441 Middle Road, North East by 10 am, the tour group will travel from site to site as a car caravan. All drivers will receive a printed copy of the tour itinerary at this first site.
Tickets are $25 per person and may be purchased using the "Buy Now" button below.
Questions? Email [email protected]
Presented in partnership with the North East Historical Society.