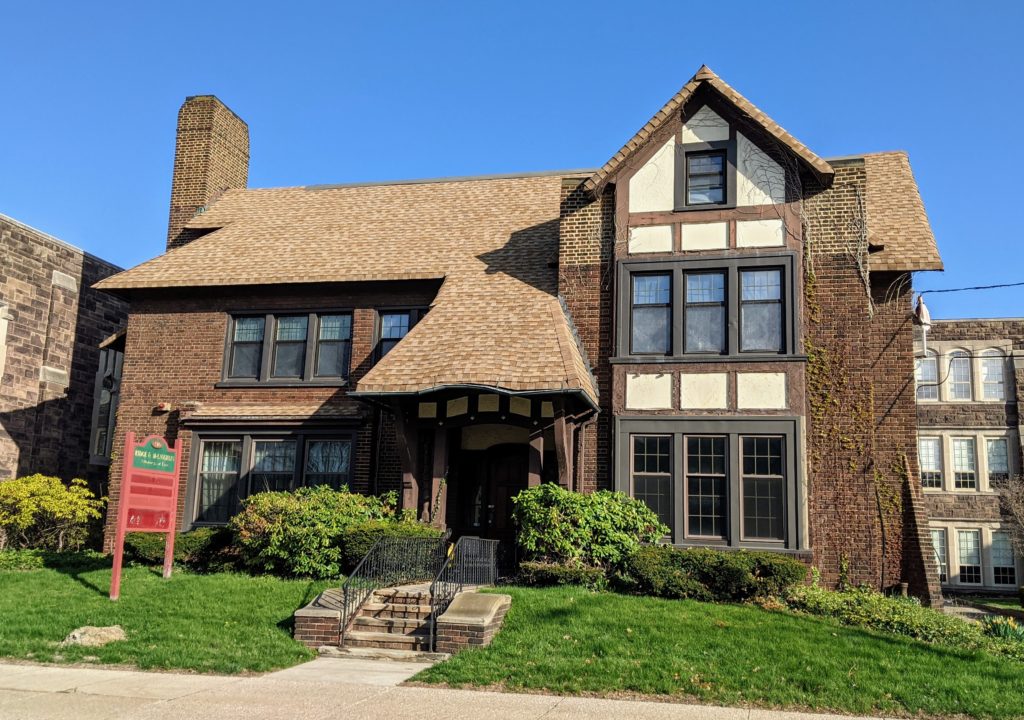 The Tudor/Arts and Crafts style home that once sat between the buildings of Cathedral Prep at 246 W 10th Street, was built around 1906. Its original inhabitant was Henry A. Messenger and his wife, Myrtle. He was an insurance salesman who kept his office at 1119 State Street and was also a popular musician and vocalist who was active in local choruses. They lived there briefly and sold the home to Allan D. and Florence Robinson Skinner around 1913. The Skinners were the family who ultimately made the home what it was, as they lived there for over 30 years. 
A.D. Skinner took over the Presidency of Skinner Engine Company, "one of the largest engine building concerns in the world and a leader of Erie's most progressive industries," which was started by his father, LeGrand Skinner in 1868. They lived the life of the wealthy elite, collected art from around the world, and regularly traveled to exotic places, like Bermuda, Cuba, and Panama. Florence Robinson Skinner was a direct descendent of Oliver Hazard Perry. Her grandmother Deborah Perry was O. H. Perry's first cousin, and according to an Erie Times News article in 1913, three relics of O.H. Perry were in Florence's possession at 246 W 10th Street: a warming pan, a sword, and a scabbard and belt. Florence was also key in the committee that created the Niagara Drive in 1929, which collected $50,000 in donations to create the Niagara Preservation Fund to help save Perry's famous ship from destruction. According to the 1930 census, the home's value was $32,000, which is the equivalent of $511,000 today.
In 2000, Tile Heritage Magazine featured information on the Messenger/Skinner house because of the rare, hand-painted tiles featured in the home's mantels and bathrooms. The article noted that the home was designed by F.B. Meade and James Hamilton of Cleveland. One large fireplace in the right front room contained a mural of a ship made of 6 in. x 6 in. tiles set above the mantel constructed of buff bricks with a curved top. This also contained two 8-inch seahorse roundels as well as relief designs in glazed cream and blue. Another large fireplace in the left front room contained a custom tile mural depicting a country home flanked with pineapple tiles. Set above the mantel were two tiles with shields flanking a lettered banner that read, "Welcome Ever Smiles and Farewell Goes Out Sighing." The fireplace in the dining room featured tiles with magnolia branches in relief over pale vellum 6 in. x 6 in. tiles. Two upstairs bathrooms also featured handmade tiles, one with a water lily border and one with fish and frogs, both containing rich relief and border tiles. Given the exotic subject matter of the tiles and since the Skinner family was so wealthy and well-traveled, it stands to reason that they had these tiles installed sometime in the 1920s, which was the heyday of the family's success.
A.D. Skinner died in 1942, and Florence just three years later. After her death, the family home was given to Bishop John Mark Gannon. In an article from the Erie Times News on November 14, 1945, "The beautiful residence will be used in conjunction with the new Cathedral Prep school which adjoins the Skinner home. While plans are indefinite, it is understood the home will be used either as a faculty residence or converted into additional classrooms." It was the intention of the family who made the home the landmark it was, and of the Bishop also, that the home become part of the school.
On Tuesday, May 18th, 2021, Cathedral Prep began demolition of the historic home at 246 W. 10th Street. The school publicly commented that they needed the land on which the house sat to complete a proposed 30,000 square foot addition. Unfortunately, attempts by interested parties to salvage some of the historic features of the home proved unsuccessful, and much, if not all, of the rare handmade tiles, woodwork, original windows, floors, trim, and millwork, were lost in the demolition.
What might have been done differently?
Planning is a key part of any project. Just as budget, goals and/or end function, and timeline are important to consider, so too is the value and potential use of historic resources that may be impacted by the proposed project. Rather than choosing demolition as a default option, it is important for property owners to consider questions like: Is removal of the historic resource necessary? Why? Have alternatives that allow the resource to be retained in its current location and adaptively reused been considered?
If, after thoughtful discussion and planning (ideally with the input of preservation groups and/or design professionals with experience working with historic properties) the historic resource as a whole must be removed, consider if building materials and architectural features can be reused. Elsewhere in the country, some cities are encouraging building reuse by requiring via ordinance the salvage and reuse of materials in place of destructive mechanical demolition that results in the bulk of building materials from demolished structures being shipped directly to landfills. Although from a preservation perspective deconstruction and salvage are not as beneficial as wholesale building reuse, they are an important step in the right direction for property owners who opt for demolition. Locally, Habitat for Humanity has assisted in salvaging materials from historic properties slated for demolition with the intent to make them available in their re-sale store.
We wish that the community had had the chance to tour this impressive residence during an open house prior to demolition, and we hope that Cathedral Prep had the foresight to photo-document the home and its one-of-a-kind craftsmanship.
Our cultural heritage (and the environment) suffers when buildings are treated as disposable.