By Hollen Davinsizer, Gannon University Student
On October 18th at 12:30pm, I sat in the Starbucks café with piping hot coffee on the table waiting for two special people to arrive. Leanne Becker and her husband Russ are two lively, wonderful people who share the same passion for preserving and restoring history. They understand the negative repercussions many communities face when important relics and their associated histories are lost. Consequently, they were inspired to do something about it. This lovely couple took interest in renovating the classic, Moorhead mansion, they purchased and started renovations March 17th 2014, and have been working ever since.
The house was built in 1837 by Joseph Moorhead. It was originally a hotel called the Temperance Tavern. It was also the residence of the Moorhead family who created and ran Moorheadville. When Joseph passed in 1880, the house was sold to his great nephew Fredrick who undertook many renovations on the interior. The house was moved back about 50 feet and 40 feet west in 1907 due to a widening of the road. It took 2 summers to complete this process and was completed with only horses, mules and man-power; not one brick was cracked. The architecture of the house is Federal style, which means the rooms are divided off the center hall and everything is very symmetrical with nine feet high ceilings. The house holds 8 fireplaces, one in every room. It is surrounded by a vineyard and farm reservation which keeps the mansion secluded. The Beckers had a vision when starting the renovation process to keep as much originality of the house as possible. To do so, they learned everything they could about the house and its history.
Leanne and Russ met when they were seventeen and have been married fourteen years. When they were in their teens, Russ was in a band and the two of them would drive to New York every so often for a gig. On the way, they would pass this mansion and admire its beauty. Years later, the house was put up for sale and was left in an overgrown and run-down state. It was so severe that one had to be careful where they stepped to avoid falling though the woodwork on the porches and on the roof. They had their own perfect house already; however, something called to Leanne as she walked through the broken-down house. She knew, ever since she had first seen it years ago, that this was the house for her. They were eager to buy the house. On their anniversary, they bought it, later moved in, and started work immediately.
Since the house was in such a fragile position, the first step was to receive a bank loan so that they could start renovating as soon as possible. However, having a house in such a state of ill repair, made it very difficult to find a bank that would accept them. They also discovered that finding good contractors was problematic as well. Four contractors looked at the house to offer quotes for work and each one would either turn it down or raise the price to excessive levels. By grace they finally found Paul Tirbak, a man that always wanted to renovate this Moorhead house. Not only did he happily agree to the job, but came in at half the budget. He was the only person to be meticulous with his work and want to take measurements and dimensions of the house. This made Leanne confident they found the right guy for the task. Paul later suggested Marquette Banking for the financing. Leanne and Russ say the bank was wonderful to work with, were very quick to give them a statement, and were trustworthy. Unlike the other banks they talked to where they would not receive a statement for months then at the last minute have the bank pull out. They were the only ones that would help you in renovations. Leanne and Russ were confident in saying that Russ was key in this whole project. Paul took a year and a half renovating the mansion.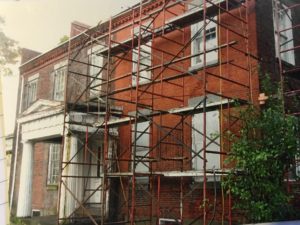 The first thing that needed to be done was to secure the outside and make sure it was stable. Every brick and chimney was replaced. All the bricks came originally from the ground on the property. The ceiling on the inside was the next major concern. Due to 40 years of rain coming into the house because of poor upkeep, enormous holes were created in the ceiling. This did not stop the Beckers. They merely repaired it with plaster and dry wall to keep the original ceiling up. History is so important to the Beckers, that they also salvaged items out of the First National Bank building, including original bookcases, and parts of the railing in the judge's chamber used as perimeter in the dining room. Their vision is very important to them, and they are doing everything they can to make it look like the original did in that time period as much as possible. From vintage wallpaper to a colossal, elegant kings dining room table and cast-iron sink, the Beckers are successfully making their dream a reality.
As you pull up to the curb, the Moorhead mansion is very imposing with its extravagant white Greek pillars, and breathtaking architecture. It is the unique style of houses like these that make them so beautiful and steeped in history, that it would be a disservice to allow them crumble. It takes great people like Leanne and Russ to step up and protect the history and memories of our landmarks. Society learns from history, which makes it even more prudent to protect and learn from the landmarks and all that they entail. If you look deep enough within, you may find something you never expected that tells a story of days gone by.