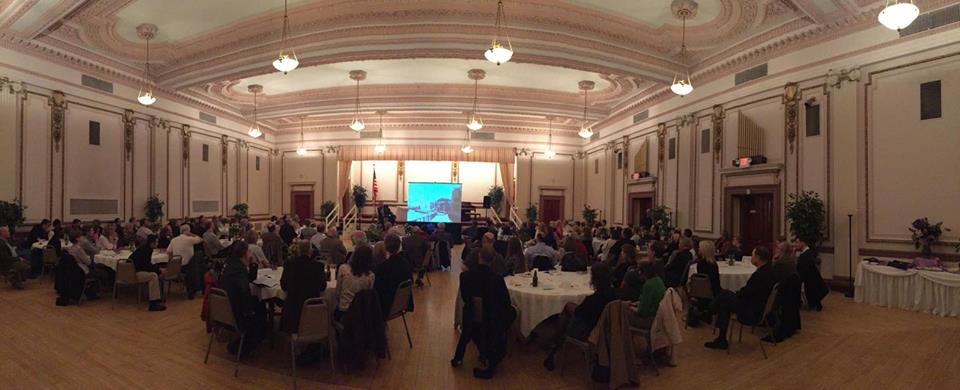 On Thursday, April 30 Preservation Erie recognized three local businesses for their contributions to Greater Erie and welcomed leading urbanist John Norquist as the keynote speaker at the 2015 Greater Erie Awards.
The Greater Erie Awards are presented annually by the board of Preservation Erie to three individuals, businesses or organizations that are exceptional stewards of the physical and cultural landscape that is Greater Erie. The 2015 recipients of the Greater Erie Award are:
Miller Brothers Power Equipment, in recognition of their commitment to maintain a commercial enterprise in downtown Erie and repurpose one of our City's well-known historic structures;
Latino's Restaurant & Bar, in recognition of their achievement in creating a true Latin American-styled establishment on Erie's original Main Street, historic Parade Street;
Kerr's Tire Korner, in recognition of their commitment to maintain an auto-repair and service station in a historic commercial building.
Following the presentation of awards, our keynote speaker John Norquist took the stage. During his presentation, "Adding Value to Erie," Mr. Norquist recommended re-visioning the city's zoning code and development practices and patterns, and making the most of our streets and public amenities and assets.
Thank you to our many volunteers and sponsors who helped to make the 2015 Greater Erie Awards a success!
The event was supported, in part, by the Erie Community Foundation, Jefferson Educational Society, Kidder Wachter Architecture & Design, Erie Insurance, SNOOPS Neighborhood Network, Coletech, S.O.N.S. of Lake Erie, Pennsylvania Sea Grant, Mercyhurst University, Northwest Restoration, Miller Travel Services, Richard E. Filippi & Associates, and the Erie Art Museum.