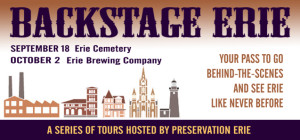 For many, we travel the streets and avenues of the City of Erie and neighboring communities so frequently, we no longer notice the beauty and uniqueness of the built environment that surrounds us. If only there was a way in which we could see these buildings differently. There is.
Preservation Erie has launched a series of "Backstage Erie" tours intended to take people behind-the-scene in places we see, perhaps every day, but haven't taken the time to explore or learn about.
Our series begins with a visit to the Erie Cemetery on September 18 from 6:00 pm to 8:00 pm. Burial Grounds and cemeteries are among the most valuable of archaeological and historic resources. They are evidence of various settlement patterns, burial practices, cultural and religious influences, economic development, social relationships, and genealogy. Unfortunately, they are one of the most fragile resources to preserve and protect. With this in mind, Mercyhurst University professor Mary Ann Owoc recently completed a typological overview, as well as a preservation and threat assessment for all of the cemeteries in Erie County. Dr. Owoc will provide an overview of her research and take the group through the older sections of the Erie Cemetery to illustrate her findings. We'll also hear from staff of the Erie Cemetery about their current and upcoming preservation activity. Tickets are $8 per tour for non-members and $5 per tour for Preservation Erie members. Tickets may be purchased online or at the Erie Cemetery's main office. Refreshments provided.
The next adventure takes us to the old Erie Brewing Company building at 21st and State Streets October 2 from 5:30 pm to 7:00 pm. The building was constructed in the 1890s to house brewing operations and offices and serve as a distribution hub or warehouse. Mark Miller, owner of Miller Brothers Power Equipment, recently rehabilitated the property for his store and will share the history of the building and stories about the rehabilitation work, and will take us on a tour of the original Executive Ratskeller. Tickets are $8 per tour for non-members and $5 per tour for Preservation Erie members. Refreshments provided.
If you have questions, please contact us at [email protected].