THE CHAPEL'S FUTURE
In June 2016, the chapel was identified by Cleveland's City Architecture as significant "Our West Bayfront" neighborhood asset that should be adaptively reused with an appropriate community function. Some who dismiss efforts to preserve the chapel claim that since no parking is available on-site, that there is no future for the chapel Concerns about parking in a repurposed Villa Chapel have long been considered and can be addressed; conversations with owners of nearby parking lots, coupled with some available street parking, encourage us to believe that parking needs for a revitalized Villa Chapel can readily be met. A high-quality day-care in the ground floor would be accommodated by on-street parking for the few employees and a drop-off space on Plum Street. The main chapel space would renovated as a multi-use center providing: off-site meeting space for the convention center, catered meals for patrons of the nearby Quinn Funeral home, multi and non-denominational weddings, film screenings and recitals of live music, poetry, theater and dance events. This use of the chapel would not require on-site parking during normal business hours, but, could be accommodated by attracting neighborhood residents, by using nearby lots, or in the case of the convention center, providing a shuttle to and from the hotel.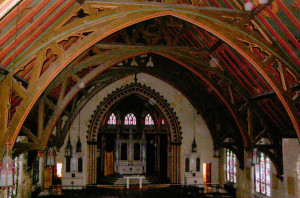 PRESENT
Located at the northeast corner of West 9th and Plum streets (in the heart of the Our West Bayfront neighborhood in the City of Erie, PA) the diminutive chapel is listed on the National Register of Historic Places as a key part of this rare, intact ecclesiastical compound filling the entire block bounded by Liberty, Plum, W. 8th and W. 9th streets. Left unheated, with a leaky roof, the National Register recognition is no protection against the ongoing demolition-by-neglect. Widely admired for its ornate woodwork and patterned stained glass, Erie City Council unanimously voted in support of it's preservation. The famed Notre Dame professor of architecture, Duncan Stroik, visited the chapel in 2009 proclaiming it "a gem that should be saved." In 2011, the Villa Chapel was featured on "Preservation Pennsylvania's At Risk List."
PAST
Built by the community for the Sisters of Saint Joseph (SSJ) in 1925, seventy years later the SSJ constructed a one-story Motherhouse in Millcreek, a suburb of the City of Erie. After the Sisters vacated the historic complex, a local developer of affordable housing (H.A.N.D.S.) used tax-credit financing to create beautiful apartments for seniors in the former convent, and single-parent housing in the former school. Unfeasible as a housing project, the chapel was rented out to a church group until the boiler failed around the year 2000. The chapel has remained vacant ever since.