By Andrew Hamilton
In Fall 2018, Gannon University students enrolled in Dr. Jennie Vaughn's writing course wrote articles for Preservation Erie's blog as a class assignment. We would like to thank Andrew for the following entry.
From urban areas dominated by skyscrapers to rolling rural vistas, graveyards can be found across the American landscape. Graveyards tell us much about the past; specifically, they can tell us about the people who have built the society in which we live today. Some of these graveyards are picturesque, while others are littered with weeds and half-broken headstones. Nonetheless, each graveyard and each grave tells a story worth preserving. As grave markers age, our ability to decipher the history they tell – the life of one of our ancestors that lies beneath – also fades. Enter Gravestone Guardians of Ohio. Gravestone Guardians of Ohio, located in Shelby, Ohio and owned by Mark Morton, works with the latest techniques for cleaning and repairing tombstones. Their mission is to offer a wide range of services to suit the needs of families, cemeteries, and communities for the purpose of documenting and preserving gravestones.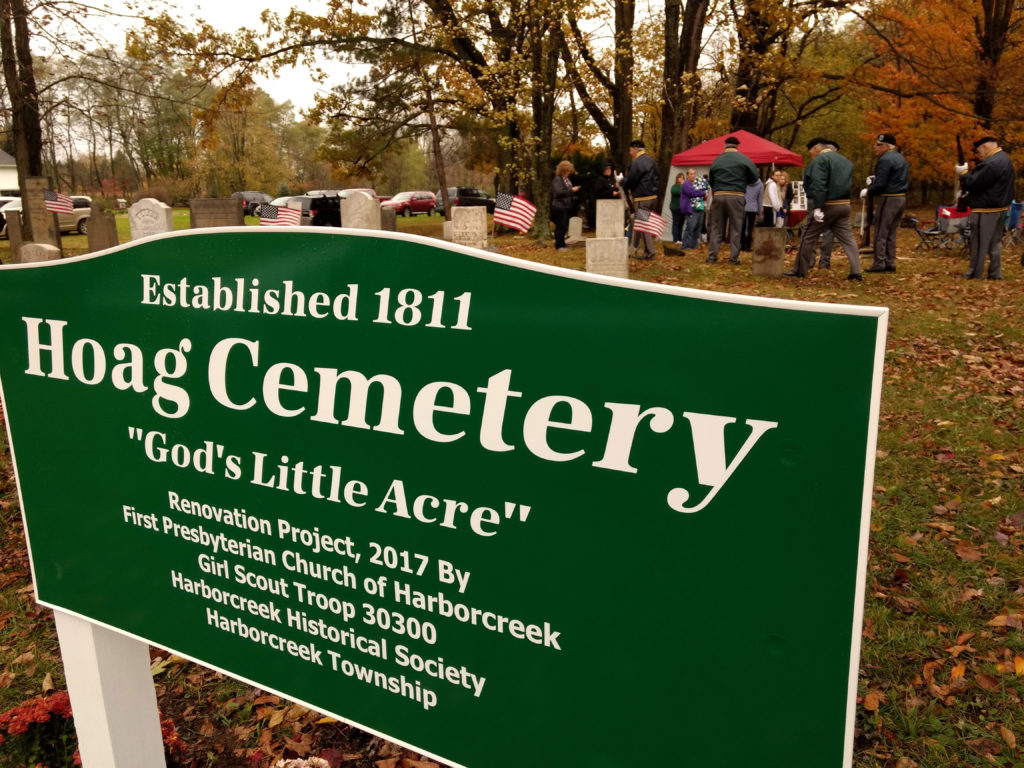 Apart from saving and restoring headstones as contract work, Gravestone Guardians of Ohio also offers presentations for historical societies, churches, and groups interested in learning graveyard preservation techniques. These presentations and workshops help to inform other organizations on the importance of graveyard preservation and how to safely clean and restore stones. Locally, several historical societies and churches have hosted successful workshops by Gravestone Guardians of Ohio. In June 2017, the Corry Area Historical Society hosted Gravestone Guardians for a two-day workshop that instructed a sellout crowd on how to properly clean, repair, and reset older gravestones. Due to the great success of the workshop in Corry, the Fort LeBoeuf Historical Society hosted a similar workshop that used the oldest section of the Waterford Cemetery for hands-on learning.
Gravestone Guardians has also worked with the Harborcreek Presbyterian Church, as well as St. Boniface Catholic Parish in Erie. Jason Koshinskie, a Diocese of Erie Seminarian who attended a workshop at St. Boniface Catholic Parish in June 2018, said "that it was interesting to use the techniques (all natural techniques involving water, plastic scrappers, and good old-fashioned elbow grease) that Gravestone Guardians of Ohio taught, because you could instantly see an improvement in the condition of the gravestones." St. Boniface Catholic Parish, which is a historically German parish, has many undecipherable headstones due to decades of weathering and air-born pollutants. Mr. Koshinskie said that "the workshop was fruitful for the parish community because the restoration techniques not only preserve history but provide families of the parish with a tangible link to their beloved ancestors who made sacrifices so that their descendants had more promising futures."
You can find more information about Gravestone Guardians of Ohio on their website gravestoneguardians.com. The site can also be used to schedule a workshop, volunteer to help with restorations across multiple states, and see photographs of restoration projects that they have completed. Gravestone Guardians provides a much needed service to many communities across America. As Benjamin Franklin once said, "you can judge the character of a town by the way their cemeteries look."